What does IQ 110 mean?
You have more than average reasoning skills so you can make certain conclusions and decisions which are backed with opinions and logic. You can call yourself a "thinker" or a clever person.
The power of our brains and what they are capable of are open questions to human. We are on our way to discover and firgure the most complicated concept: intelligence. There are various aspects to consider, which can range from verbal abilities, physical talent, cognitive skills or simply our memory. Intelligence is a combination of all the aspects and can be improved from time to time when we gain new knowledge.
IQ test is a certified and trusted measurement to check your brain capacities. The result is provided in number and compared with average scores of test takers at the same age with you.
The formula for IQ score to be calculated: Your mental age/Your chronological age x 100.
For example: You are 18 but your mental age is 16 then your IQ score is 16/18 x 100 = 89. An IQ score of 110 means your mental age is 1.1 times higher than your chronological age. But what else can be indicated from IQ 110?
I. What does an IQ of 110 mean?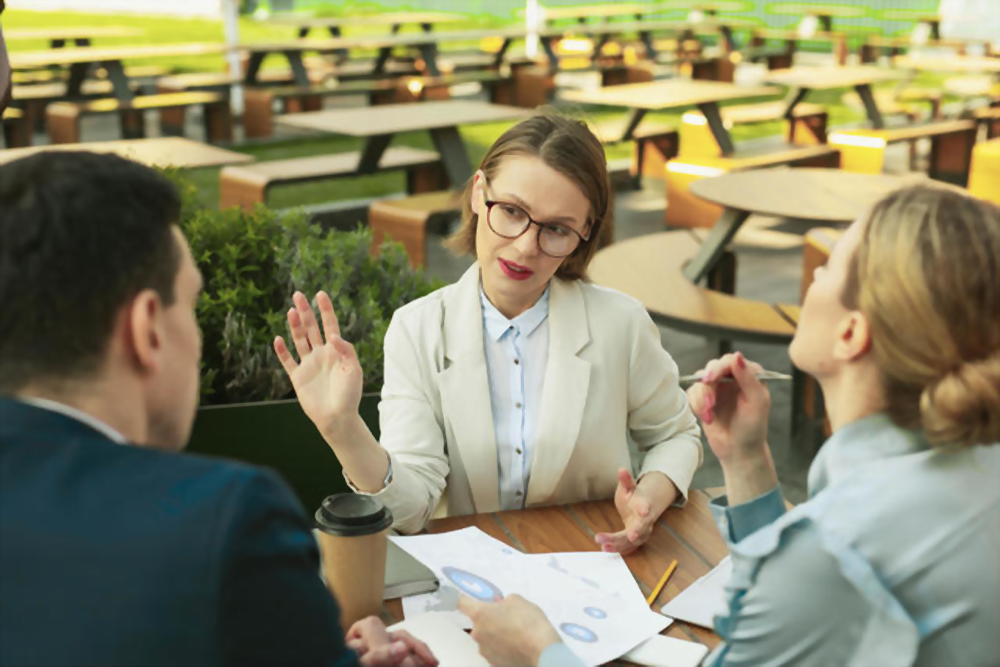 If you have IQ of 110, you are placed in the group of average but high average. It is definitely the best group as you can enjoy the benefits of being average but shine bright among the group as well.
An IQ 110 scorer can be described as a smart person who is interested in learning and broadening your knowledge. You are not extraordinary but you perform well at school and at work with this high IQ score.
<<< Related Article >>> IQ 104 - What does it mean?
You have more than average reasoning skills so you can make certain conclusions and decisions which are backed with opinions and logic. You can call yourself a "thinker" or a clever person.
As you belong to the average group, you have large communication range with people who share similar intelligence with you. The more you make friends, the more opportunities you can get from your network. When strong relationships are built, you can benefit from them from one way or the other.
However, you attitudes towards everything in life matter more. Difficulties and obstacles await you on your way to success and that's your traits and attitudes which can lead you through hard time. Emotional Intelligence as well would be a very influential parameter.
II. Seth Rogen - Canadian-American actor and director with IQ 110
Seth Aaron Rogen was born in 1982 in Canada to a social worker and an assistant director. Rogen went to Vancouver Talmud Torah Elementary School and Point Grey Secondary School. And he performed as a stand-up comedy at Camp Miriam.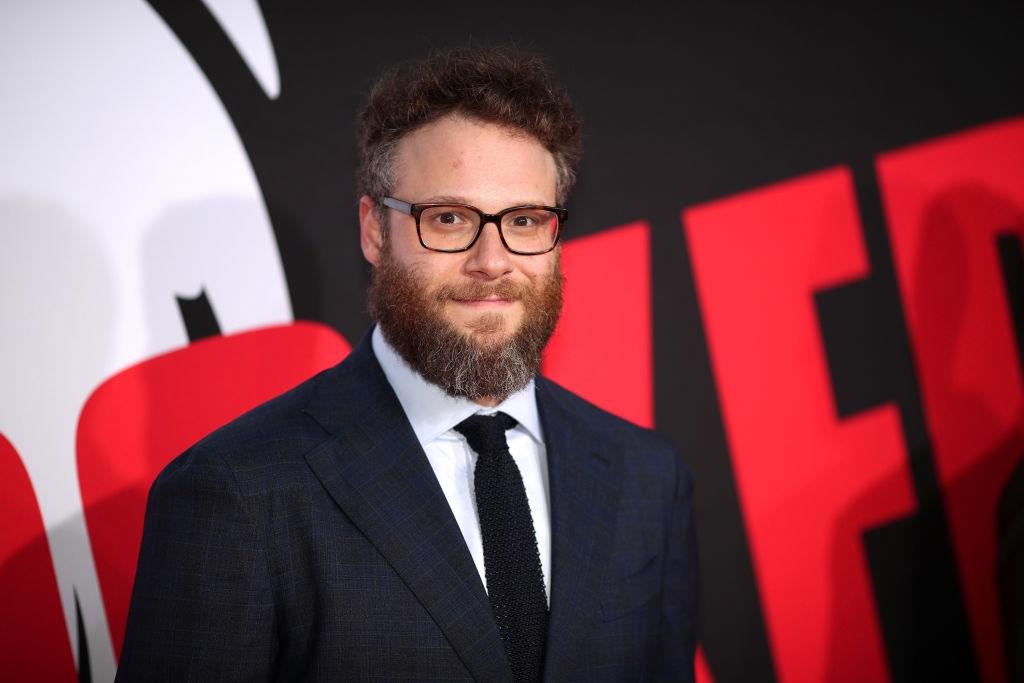 During his childhood he stayed focus on comedy only and performed at bar mitzvahs and small parties. He dropped out of high school at the age of 16, when he got the role on Freak and Geeks Television show 1999. His parents quit their jobs so Rogen became the main wage earner at this time.
Rogen landed roles in Donnie Darko (2001) and Anchorman: The Legend of Ron Burgundy (2004). He joined writing Da Ali G Show last season in 2004, which earned him a Primetime Emmy Award nomination. In the following year, he received positive reviews for his part in The 40-Year-Old Virgin in 2005. He not only played his role but also produced and improvised his dialogue. After this success, he made his appearance in You, Me and Dupree in 2006.
His hit came when he played the leading role in Knocked Up 2007. This movie was a commercial and critical success which received 90% on Rotten Tomatoes and grossed 219 million dollars. In the same year, he played in Superbad, a movie he wrote with Apatow, and hosted Saturday Night Live.
He worked on multiple projects in the following year: Horton Hears a Who!, The Spiderwick Chronicles, Drillbit Taylor. Besides acting and writing, Rogen also voiced for Kung Fu Panda (2008) and Shrek The Third (2007). And if you watch The Simpsons, the episode "Homer the Whopper" was written by him.
In 2009, Rogen starred in Zack and Miri Make a Porno, Observe and Report, Funny People and a music video Like a Boss.
From 2010 to now, Rogen continued his writing and acting path with remarkable works such as The Green Hornet (2011) 50/50 (2011) The League (2011 - 2015) The Guilt Trip (2012) Arrested Development (2013) Neighbors (2014) The Interview (2014) Steve Jobs (2015). He started a new role as a director since 2013 with his first comedy This is The End (2013).
He also reprised his voice in Kung Fu Panda 2 and 3, and hosted Saturday Night Live in 2014 for the third time. His most commercial box office hit was Sausage Party, an animated comedy released in 2016 with R-rated.
In the following year, Rogen produced Future Man series with Evan Goldberg. He supervised the script of The Disaster Artist (2017). He voiced Pumbaa in The Lion King 2019. His latest work was Good Boys, a comedy, and The Boys and Black Monday TV shows.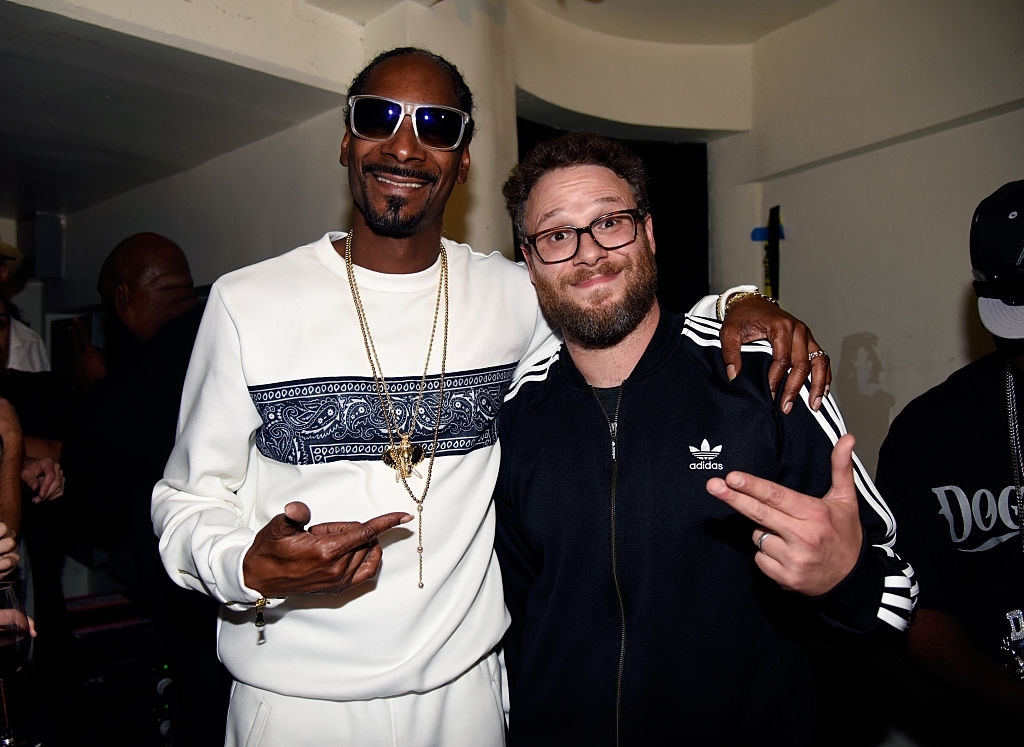 Seth Aaron Rogen and
Snoop Dogg
List of awards Seth Rogen won:
American Comedy Award for Best Comedy Director - Film - This Is the End 2013;
Behind the Voice Actors Awards for Best Vocal Ensemble in a Feature Film 2011;
Canadian Comedy Awards for Canadian Comedy Person of the Year - All Media - 2009;
Canadian Comedy Person of the Year - All Media - 20008;
CinemaCon, USA for Comedy Stars of the Year - 2019;
CinemaCon, USA for Comedy Filmmakers of the Year - 2014;
Golden Schmoes Awards for Best Screenplay of the Year;
MTV Movie + TV Awards for Best WTF Moment - Neighbors - 2014;
MTV Movie + TV Awards for Best Musical Moment - This Is The End - 2013;
ShoWest Convention for Comedy Star of the Year - 2008;
Women Film Critics Circle Awards for Merry Macho Award - 2014.
Even though IQ 110 is not considered as genius, Seth Rogen still made it to become a great comedy actor and writer. He was internationally acclaimed and received favourable reviews from the critics. Even though he never finished high school or attended college, he did make a name for himself in his career. IQ 110 does not determine your success but your attitude and ambition do.
<<< Click here >>> Celebrity IQ will surprise you

Maybe you are interested
What does an iq of 200 mean?
What does an iq of 194 mean?
what does an iq of 190 mean?
What does an iq of 116 mean?
What does an IQ of 112 mean?
what does an IQ of 108 mean